Cann-ID v3.0.1 Software Release Notes
Cann-ID Report Methods, Chemstation Import & CERTUS
©
Reports
Cann-ID Software Release Version 3.0.1 |
Release Date: May 9th, 2022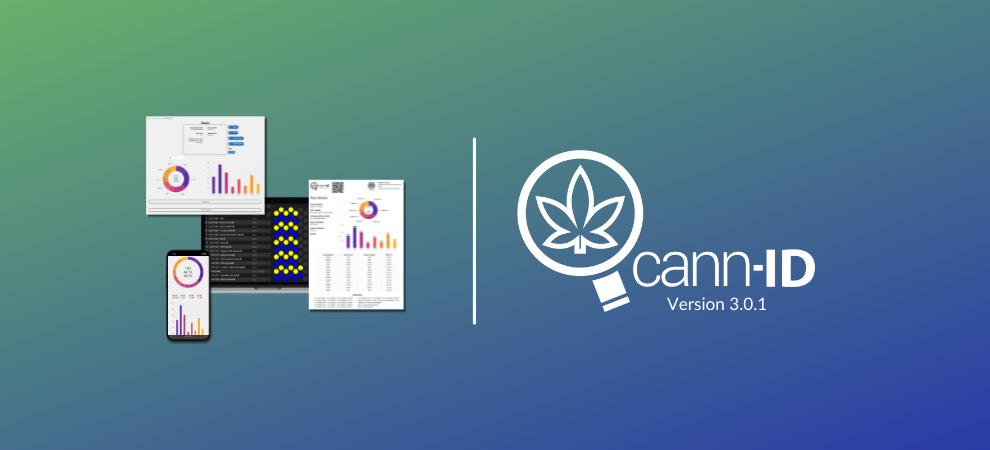 Release Notes
A new version of Cann-ID software is scheduled for release beginning on Wednesday May 4th for Autosampler based Cann-ID systems.
Note: Since this update affects the CannID drivers, there will need to be scheduled down time on your instrument to perform the update. Our Support staff will be reaching out to schedule approximately 30 minutes of downtime for this update beginning Monday May 9th. If you have not been contacted by Friday May 4th to schedule your update, please submit a ticket. Any other questions our team is available to help answer them.


New CannID Report Methods Added:
Create Sample/Analyze New Sample form requires choosing the new option Report Method to identify which testing method is being performed and what analytes, in specific order, the test should yield results for

New 'Default' Report Method functionality allows a single method to be assigned as the Default for the org. If selected as Default, that Report Method will appear first in the Report Methods page list and first in any dropdown list while creating/editing samples. Only 1 default can be selected

Report Methods list updated to display whether the test result should perform Total Calculated Potential calculations on the results. Editing form for Report Methods updated to display associated Calculated Total Potential associations (uneditable)

New 'Create' page for building Report Methods from scratch. Includes declaration of report method name, default toggle, analyte builder, and Calculate Total Potential attachment.

Option to build new report method from Template (a report method that already exists), or build from scratch by adding analytes one at a time.

All analytes listed require a name and color declaration.

Note: Currently the name is very specific and must match what the analyte name will be in the resulting IRReport exactly in order to report it!

Analyte reporting order is editable with left & right arrows when creating a report method. Order left to right will report top to bottom on the test results page.

Calculated Total Potential of analytes can be added to custom reports but requires both the primary and acid related analytes to be present in the Report Method in order to attach calculated total potentials.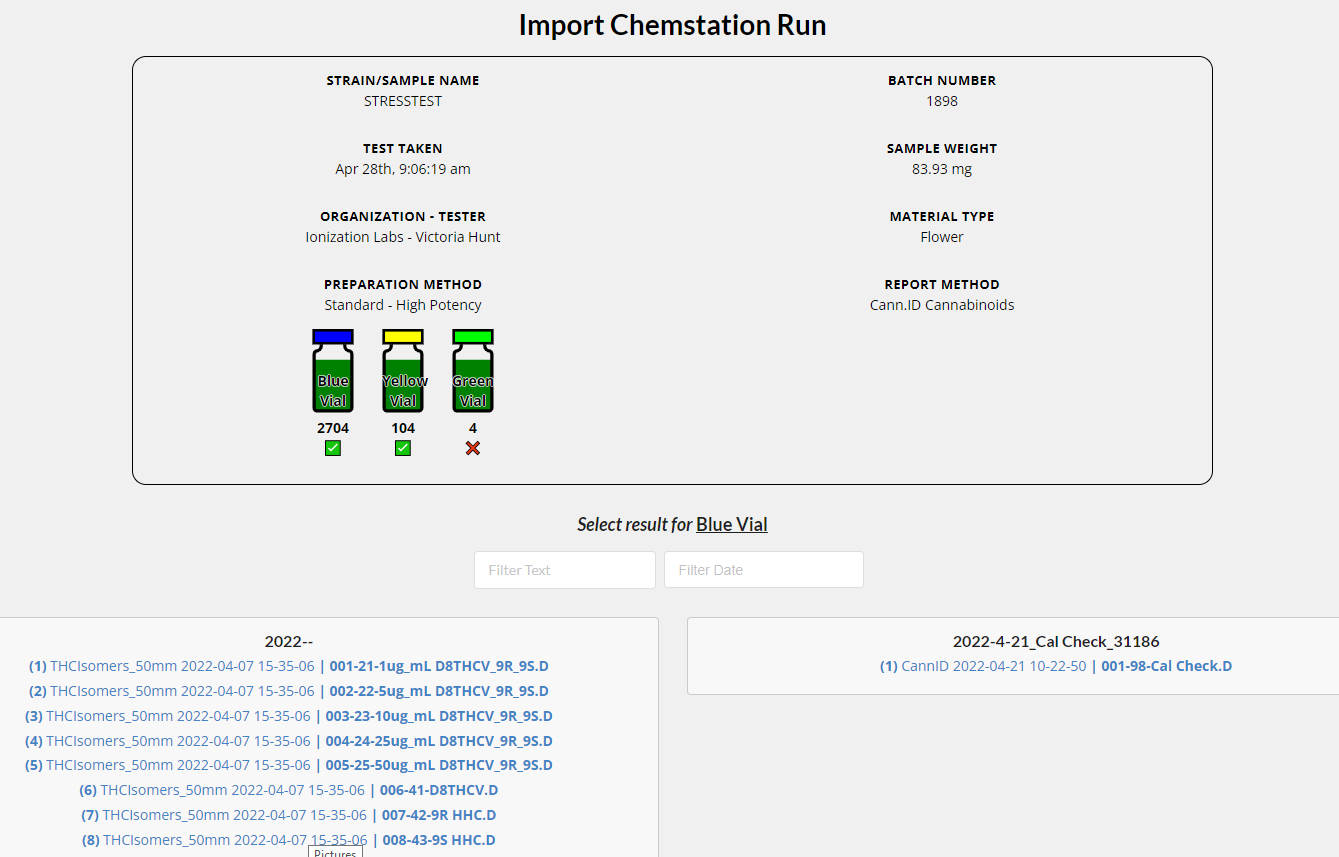 Chemstation Import Updates
:
Toolbar 'Manage' button displays when no results, or partial results, exist.

Previous #admin url import removed and replaced with new 'Import Chemstation Run'. Link to new import page added to Manage dropdown menu

Import Chemstation Run page has sample info metadata box. Add new functionality via text filtering and calendar filtering tools for filtering available results to import

Available import list on Import Chemstation Run page updated to include section of results loose (no sequence or sample folder) in the \Data folder

Available import list on Import Chemstation Run page numbers the .D results by time created. Note at top of page indicates which vial is to be imported

Sample info metadata box updated to include Prep Methods display (doesn't display on Share test result page)

Import Chemstation Run importing page link hidden if no driver connection exists. This is because importing from the local file system requires the driver to perform functionality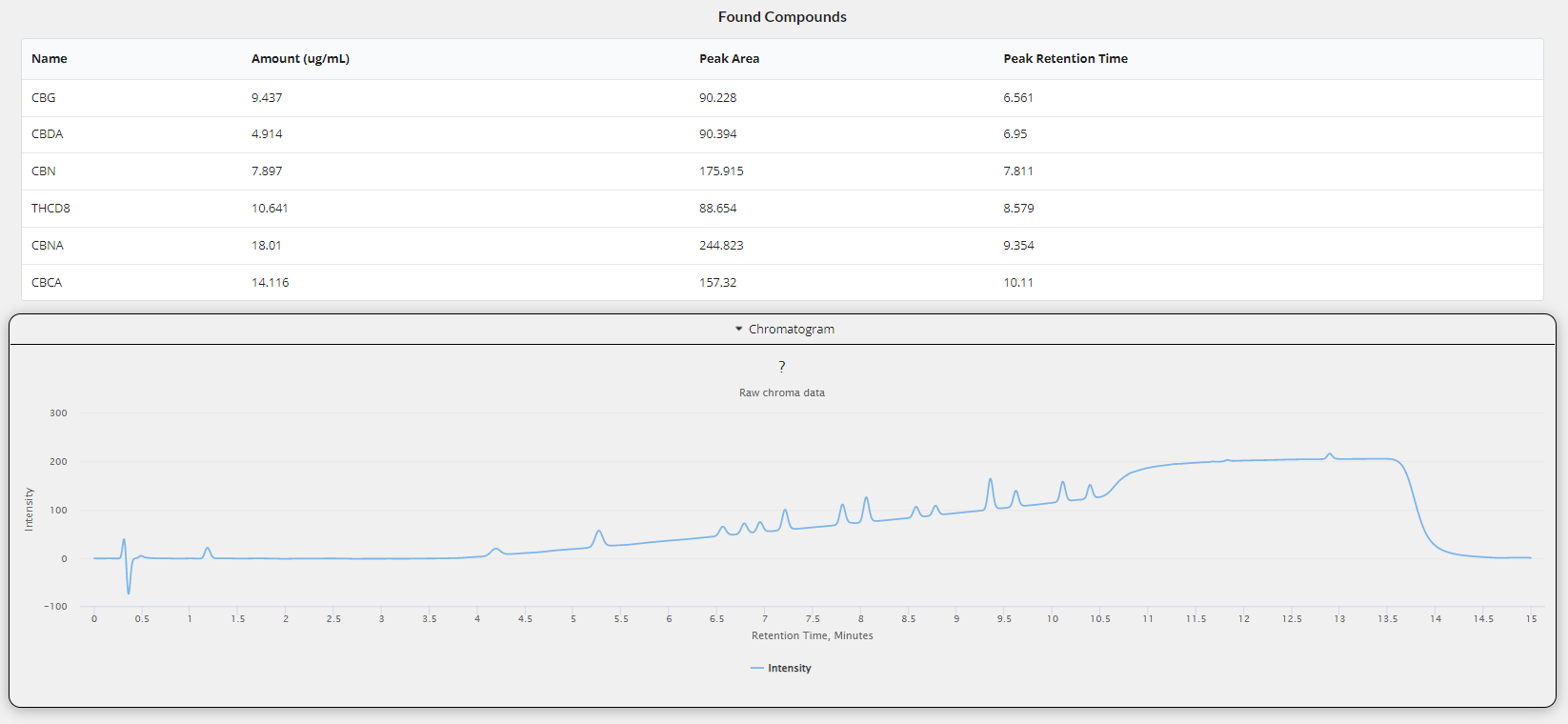 Sample info metadata box displays when no results, or partial results, exist

Chromatograms display on Share test result page

Admin or higher privileges only! New links in toolbar download dropdown to download a zipfile of all the chromatograms, or the raw data .D zipfiles

New prep method vials display in Sample info metadata box. Prep method vials are Interactive if the result exists for that specific vial. Clicking navigates to a new 'raw data' page for that vial which displays all associated metadata captured, compounds found (with the raw data from the quantitation report, IRReport), and the chromatogram. Metadata info includes local folder and file path to where the data was imported or uploaded from

Vial raw data page has blue Copy buttons on the right of each metadata item for quick copying. Streamlines the process to copy folder paths or the IRReport file path when navigating the local drive in Windows Explorer

Bug Fix: Updated handling with respect to new IRReport creation Prevents bug related to redrafting reports in Chemstation. Results are assigned to specific vials and prevents writing of incorrect data to a vial even if results don't exist. Prevents overwriting results and requires the user to Clear results in order to Import updated results.

Error handling and messaging/feedback for failed chromatogram display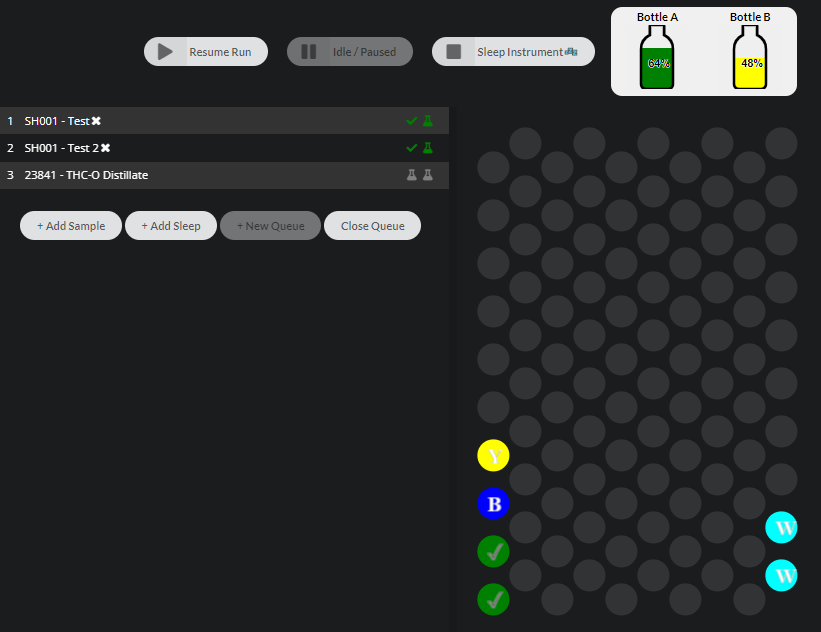 Instrument Control Updates
:
Cannot delete sample when present in the sample queue (disabled button in test results table)

New 'Manage' dropdown link to the Edit page for the sample. Disabled when editing is not permitted (i.e. sample in queue, test results exist)

Sample test result page displays partially results after first vial. I.e. if results for 1 of 2 vials exists, all calculated results appear as PRELIMINARY RESULTS with the notification text emphasizing the results are not complete. Toolbar buttons are disable for preliminary results to prevent report generate/downloading/printing for incomplete results.

New 'Notifications Log' display in Sample Queue to display user feedback when failed result uploads due to internet issues and updated results detected but not written to DB.

Notification Logs display include a Copy icon so that user can copy the log text for submitting tickets

Improved handling of failed results uploading or starting test hooks due to internet issues. Standard handling tries either situation repetitively 6 times at 5 second intervals (30 sec worth of attempts). If it fails all, the starting test hooks displays user feedback in Notifications Log display. After 30 sec of attempts to upload test results, the handling continues to try uploading for 4.5 minutes more (5 minutes total) with intermittent user feedback in the Notifications Log display. After 5 minutes, attempts stop and user is notified that CannID is unable to connect to upload the data

Sample Queue buttons updated to prevent issues related to deleting samples from queue.

New Queue button is disabled while tests are being run, user must Stop Run in order to clear the queue.

Remove sample "X" icon for individual samples in queue is only present for completely finished samples (all vials have results), completely untested vials which are not currently being tested, and if the Stop Run button has been clicked and the instrument in in an idle state

Bug Fix: Update so you cannot Clear sample test results if the sample is still in the sample queue

Styling Changes
: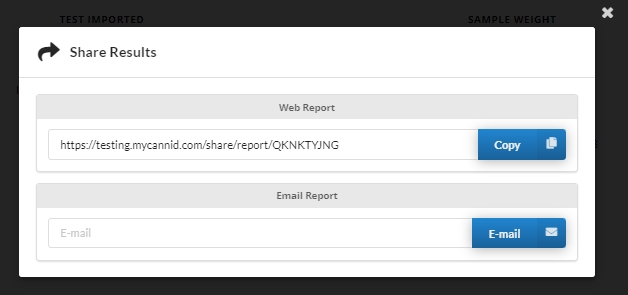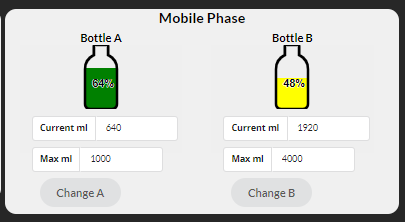 Share modal updated styling

Over graphics: Mobile Phase bottle text and Prep Method vial text cleaned styling with text halo for better readability

COA Revision- Updated instruction on how to authenticate results via certus. New Cannid logo, and header format. Coa now has Green Ocean Sciences in footer


Sample toolbar moved to top of sample results page. Toolbar present and available when no results, or partial results, exist. New 'add to queue' button in toolbar


Related Articles

Cann-ID Support Portal: Overview

Cann-ID Support Overview Customer Portal New User / Log In Portal URL: support.cannid.com If you have not already created an account, please set yourself up as a New User by selecting 'New User? Sign Up'. You will be required to provide some very ...

How to Operate & Run Samples on Your Manual Injector HPLC

For instructions on how to warm up, shut down, and run samples on your HPLC, please read the attached PDF.

How to Change Mobile Phase Bottles on an HPLC

Changing Mobile Phase Bottles Purpose The purpose of this procedure is to correctly change mobile phase bottles on an HPLC. Scope This procedure applies to HPLC instruments used by Ionization Labs and its clients. Responsibility It is the ...

How to Calibrate your HPLC - Agilent 1220 Autosampler

Calibrating the HPLC Purpose This document details how to properly calibrate an Agilent 1220 Autosampler HPLC to deliver accurate results for cannabis potency testing. Responsibility It is the responsibility of the operator to ensure that the ...

Sample Preparation Checklist

Sample preparation is the most important component in measuring accurate results with your Cann-ID system. When preparing your sample, please make sure to follow each of these steps carefully: Calibrate your balance daily before using it. Ensure ...